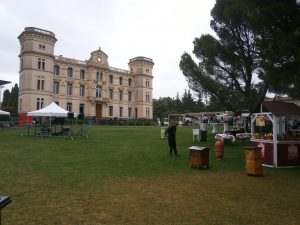 On our last visit in September/October, we arrived just in time for the grape harvest celebrations, and we were lucky enough to be able to attend the amazing music extravaganza that included several bands all afternoon and evening, culminating in the superb Gypsy Kings.
The setting was the park by the stunning Chateau de Seriege at Cruzy, just 15mins drive from Saint-Chinian. There was the main stage and a smaller one, a huge bar, plus several stalls offering huge amounts of local wines (of course!) and various tasty delights to soak up the wine.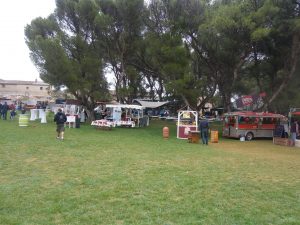 It started as a rather wet afternoon, and at an outdoor event that wasn`t ideal – we sat at a table holding umbrellas wondering what we were doing there….a bottle of red and some nice jazz music quickly cheered us up, and then the clouds moved, more people arrived and a great evening followed.
Our friends eventually arrived, and Bryony and I walked around all the wine tents tasting all the different varieties available, finally purchasing a nice bottle. Ferdi and I tried some snacks from the vintage bus which belonged to the Assignan crowd. A delicious mushroom curry and a tempting pork stew. After more wine, and beer for Ferdi to keep Jay company, we sampled a tasty local sausage in crusty bread.
We saw 5 acts, and my favourite after Gypsy Kings, was Kathy Boye and Purple Soul; she has an amazing voice, and her band were great too. After them was an interesting alternative French rock band….then Glen David Andrews who was very good. Finally the Gypsy Kings came on stage and the crowd went wild! They thrilled us with the classics – Bamboleo, Djobi Djoba plus many more.
What a fantastic day and evening……which was nearly spoiled by Ferdi realizing that he had lost something…..his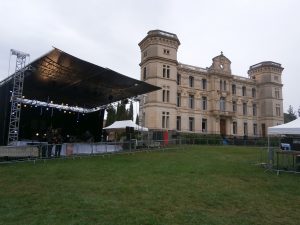 false teeth!! We got through Cruzy village before he worked out that they were not in his pocket anymore. With a quick U turn we headed back to the car park. Using a small torch we examined the ground around our table and the bar, and everything in between – no luck. Dejectedly we walked back towards the car, when I suddenly spotted something in the grass next to Ferdi's foot – where the whole crowd had exited the venue – it was them, and in tact!! Very lucky.