Languedoc Beaches, Cycling and VTT, Canoeing and more!
There are numerous activities to keep you occupied in and around Saint-Chinian, from adrenalin sports to just lying on a beach, depending on your inclination.
Languedoc Beaches
If the heat gets the better of you, the beautiful Languedoc beaches are renowned as being some of the best in the South of France, and they are only 40 minutes away by car.
Valras Plage is the closest, but is quite built up. For a quieter option Serignan plage is lovely with 2 bar restaurants for a cold drink. The Mediterranean beaches in these parts tend to be wide and sandy, and it's normally easy to find a spot – even in the height of summer. Be warned though – most beaches have naturist sections. The water shelves gently, and bathing is safe.
Alternatively, join the locals and swim in the clear water of the River Orb at Cessenon or Roquebrun, or the river Cesse at Bize-Minervois. Nearby Reals has a BBQ and picnic area, and you can easily while away an hour or two watching the locals jump from the rocks into the cool waters below!
Several lakes in the area – Lac du Salagou near Clermont-l`Herault, or Lac de Jouarres near Olonzac – offer wind surfing and other water sports in the season. The lakes are also good for swimming, and are popular with locals during the summer months.
And for a close cool down, there is the rock pool and picnic spot 5 minutes walk from the apartments.
Cycling and VTT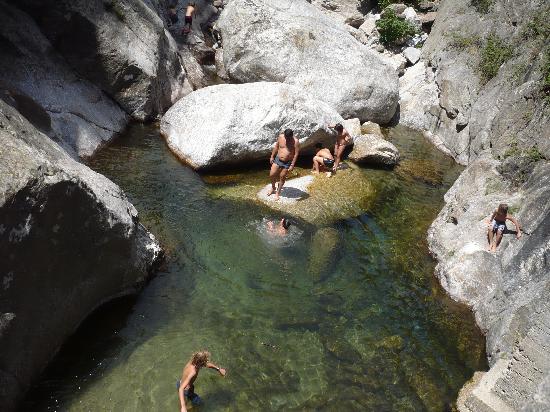 Both road cycling and VTT are very popular in Saint-Chinian, and the Langudoc region in general is a haven for cyclists, with several trails on and off road. Bicycles can be hired in Saint-Chinian or at plenty of other nearby towns, but you can bring your own (we have space to house them in a store cupboard).
The Tour de France last passed through town in 2016, as it does every few years. Lots of other races occur all year round, with mountain biking in the National Park being very popular. Just find one of the many local tables d'orientation, and follow the trails which are graded according to ability.
Walking and hiking
From your doorstep there are numerous walking trails through vineyards and up into the hills and past an old windmill. A board in the square shows you the routes. The Tourist Office can give you more information.
The Haute Languedoc National Park has many more. The Gorges d`Heric near Olargues is a beautiful gorge, and you can take easier or tougher routes up, with stunning views all the way. Summer visitors may want to take their beach towels, so they unwind on a rock once they reach the top and take a dip in the crystal clear rock pools that form in summer.
Canoeing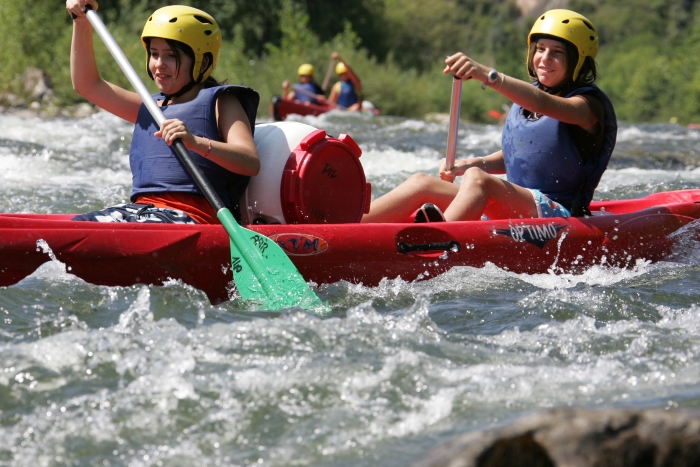 A great way of keeping cool on a hot summer day is to spend an afternoon (or even a whole day!) canoeing on the nearby Orb river.
Canoes can be hired at Base Reals, just past Cessenon, or at nearby Roquebrun. Both centres offer a range of courses, depending on energy levels and experience.
Reals has a popular BBQ and picnic area, and a nice restaurant close by. Roquebrun is a beautiful village with several café bars and restaurants, and a nice swimming beach.
Canal du Midi
You can rent a day boat and spend a leisurely day cruising on the Canal du Midi. This stretch of water provides 54 kms of beautiful cruising without having to deal with locks.
There are also scheduled cruises from Beziers.
We have a beautiful cruiser called Sianga. We offer 3.5 hour and 6 hour skippered, catered and hosted cruises from 125 Euros per person (see the page Sianga, our cruiser for more information).
Fishing
There are plenty of fish in the nearby Orb river. You will need to obtain a licence, and the Tourist Office in Saint-Chinian can give you information on how.
Golf
The nearest golf course is at Lamalou-les-Bains. There is also Saint-Thomas golf course near Beziers, and Golf Santa Rosa at Narbonne.
Horse Riding
There are several places that offer riding, like Tujague Geraldine in town, and Creissan Equitation.