Restaurants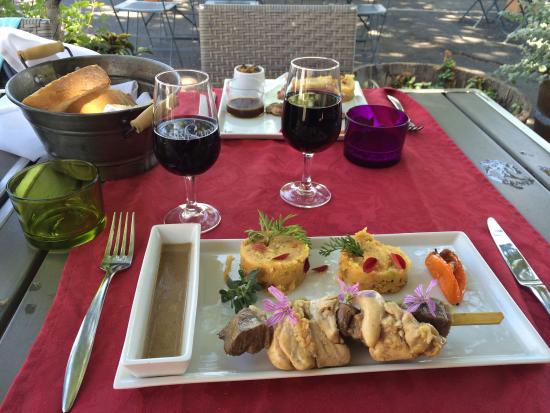 Saint-Chinian has 5 good restaurants, 2 café bars and a pizzeria, all within a few minutes walk, so you can enjoy the local wine fully with a meal, without needing to drive. La Caleche is probably the best, but closely followed by Le Village, Café de la Paix and Le Vernazobre, all offering mostly traditional French dishes like duck, steak and fish.
The set menus are very good value, and sometimes include house wine and coffee. Delicious fresh bread and water are brought automatically with every meal.
For a real foodie there are numerous top class restaurants in the area, also serving mostly French fare – always best to book:
Auberge de la Croisade, Hameau de la Croisade, 34310 Cruzy 0467 893636 www.auberge-de-la-croisade.com which is a mere 20mins drive away, just past Cruzy. Meal prices from 16 – 58 Euros. Superb food in a wonderful setting on the banks of the Canal du Midi.
Le Faitout, 1 Place du Pont, 34360 Berlou 0467 241699 just up the road towards Cessenon. Meal prices 23 – 64 Euros. Owner chef Frederic Reville uses locally sourced ingredients to create original, exceptional tasty dishes.
Le Petit Nice, 11 Avenue du Roc de l`Estang, 34460 Roquebrun 0467 896427. Great location on the river with beautiful views and good food and service.
La Grange, La Bouillette, 11120 Bize-Minervois 0468 481890. Excellent food and ambience with wonderful live music on Fridays.
Restaurant de L'Orb, 2 Rue du Moulin A Huile, 34460 Cessenon-sur-Orb 0467 894352. Delicious food and friendly service with plenty of options.
Auberge de Réals, Route de Reals, 34460 Cessenon-sur-Orb, close to the canoe centre and picnic area by the river. Simple but excellent food and is very good value.
Other notable restaurants within a few kms are Auberge de l`Ecole at Saint-Jean de Minervois, Le Terminus Cote Gare at Cruzy and La Galiniere at Capestang.
A little closer in Assignan, there are several new restaurants with rave reviews, like La Table de Castigno, and even a Thai restaurant, all with the same owners.
Olives
At Bize-Minervois is an olive mecca called Cooperative Oleicole l`Oulibo. Here they do tours 3-5 times a day depending on the season, showing you about everything olive, from the orchard, to the olive oil mill, to table and oil, with plenty of tasting.
Wine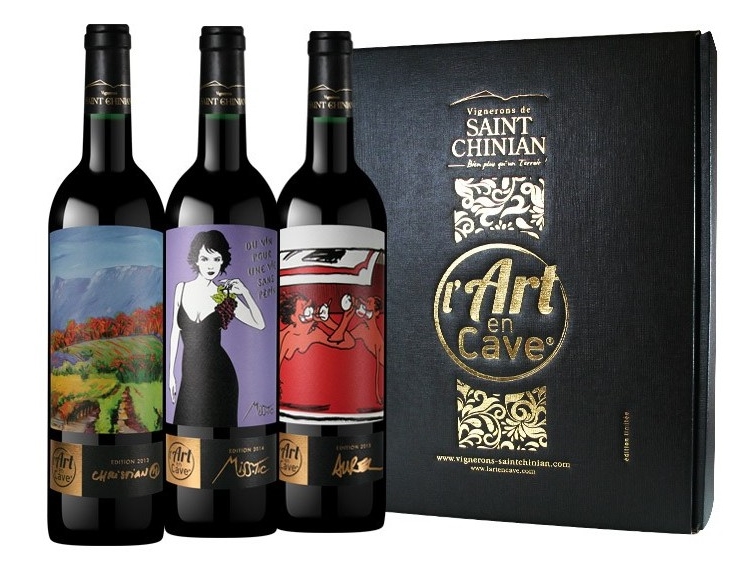 Of course we have to talk about the famous AOC wine in Saint-Chinian!
It is considered to be the oldest winemaking area in the old Languedoc region of France, as the vineyards have been cultivated since ancient times. The vineyards were developed during the Roman presence in France, notably at the time of the development of the Via Domitia, the first Roman road to link Gaul and Hispania.
The vineyard in Languedoc developed as a result of the opening of the Canal du Midi at the end of the 17th century. The wine could then be exported towards the north of France and the rest of Europe. In the region of Saint-Chinian, the decline of smaller industries has worked in favour of the wine-making industry. The profits and workforce have been transferred to this industry. In 1982 the area was awarded an Appellation d'origine contrôlée, AOC Saint-Chinian.
The town has its own co-operative – Cave des Vignerons – just outside the centre, where you can taste and buy 3 wines straight from barrels! Take your own bottle to fill up. There`s 1 rose and 2 red at a great price. They also offer tastings of numerous other wines and have a shop full, plus a few gifts.
Maison des Vins, next door to Maison de la Place, also offers free tasting of several local wines, as does Espace Vin de Saint-Chinian on the road to Beziers in town.
Market and shops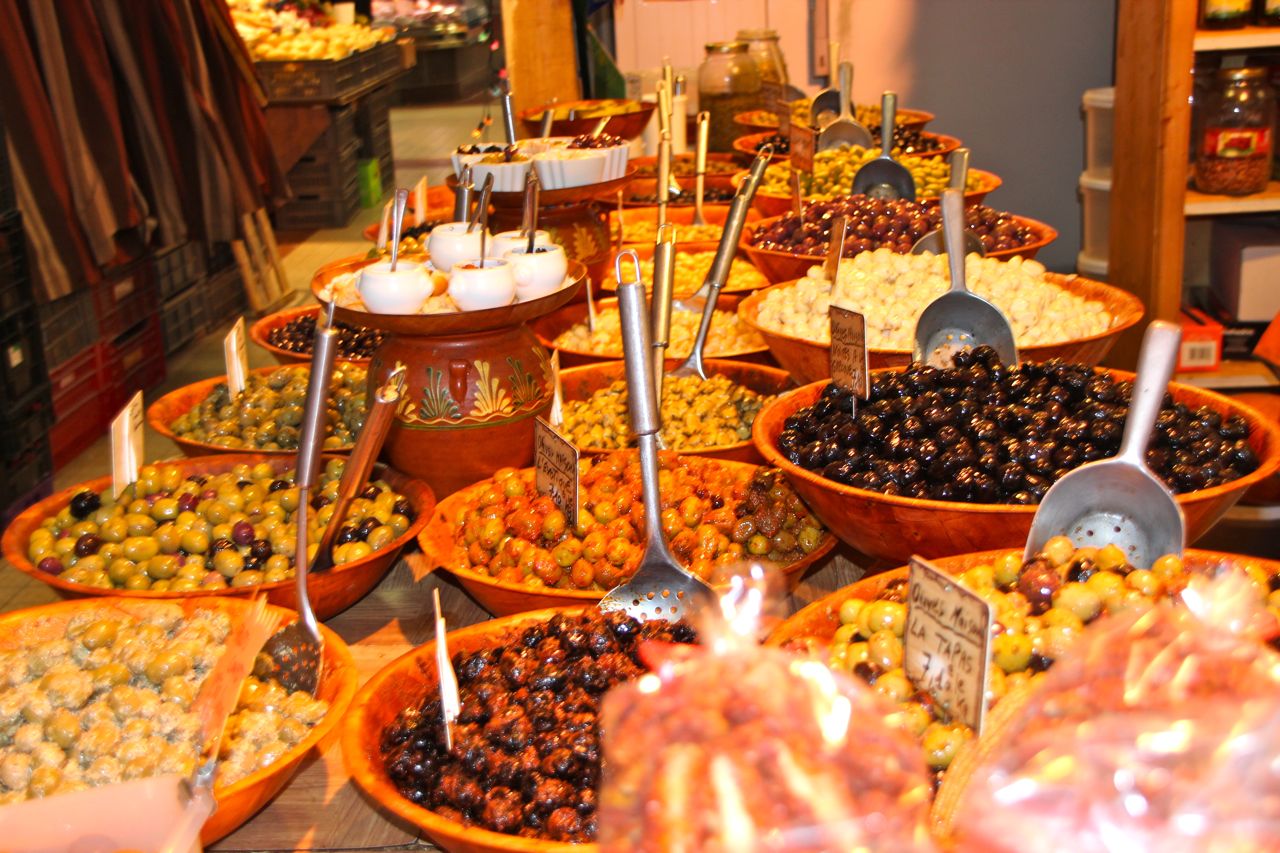 The twice weekly market on Thursday and Sunday mornings is the best in the area, and many locals come from afar to purchase their goods here. Although a little low key in winter, in spring and summer it is a hustle and bustle of everything. There is the freshest seasonal fruit and veg, meats and salamis, fish and seafood (my favourite is the oyster and mussel stall!), a huge selection of olives and marinated seafood, breads, clothes, bags, hand crafted goods like local knives, and freshly made paella, roast chicken, calamari and other goodies. All literally on your doorstep! Make sure you close your windows on these days however, as they start setting up very early!
During the warmer months, the square also hosts a Saturday market with used items for sale.
To experience a big market, travel to Narbonne and spend time at Les Halles, a huge indoor food market with the freshest seafood, meats, and veg etc you can imagine, plus counters and sit down restaurants to sample the fare.
For daily shopping there is a small Spar supermarket on the other side of the square in Saint-Chinian, and a bigger Intermarche just outside town. Many other big supermarkets are within 30 minutes drive like Carrefour and Super U.
In town there are 3 boulangeries for your daily baguettes, patisseries and croissants, a butchers and a bio food shop.
Remember that all these shops, apart from the Intermarche at the weekends, shut from usually 12 (sometimes 1pm) to 2pm or later!