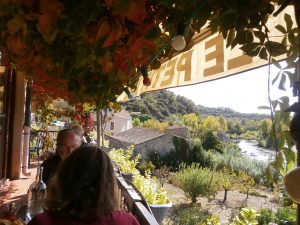 Being October, not so many restaurants were open during the week. I was looking for a nice lunch spot, and Le Petit Nice in Roquebrun fitted the bill perfectly. I phoned to find it open, and reserved us a table on the terrace.
Roquebrun is a beautiful village set on the river Orb, with canoe hire and swimming possible under the amazing old bridge. There is a Mediterranean garden up a steep road with a tower perched on the tiniest hill. Also a nice little café on the corner over the bridge.
Le Petit Nice sits right next to the river, overlooking the bridge and beach. Our little table on the narrow terrace under an umbrella of foliage, had a truly stunning view. As it was a special celebration (we had just had our offer on our own house in Saint-Chinian accepted), we opted for the 4 course 31 Euro menu…..what a feast it was. Amazing food with an amazing view – we couldn't have asked for anything more!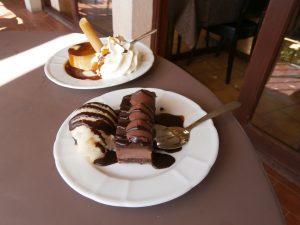 Starters were a dozen snails in their own shells, drenched in provencale herb and garlic butter, complete with pinchers and mini forks. For mains Ferdi had a huge duck breast, and I a lovely trout, both accompanied by the house sides of chips and sautéed mushrooms. Delicious. Then came a large platter laden with an assortment of cheesy delights. By now we are full to bursting, but have to make space for a dessert, as they are also tantilising – a chocolate surprise and a crème caramel.
Of course all this was washed down with local wine. What a fabulous lunch!
This post is somewhat late as Ferdi had to have a back operation rather suddenly. Luckily we have insurance and an excellent neurosurgeon in Zambia. He is now well on the way to recovery, although it will be a long process. Hopefully it will not delay our move to France. We really miss the Languedoc and all it's amazing restaurants like Le Petit Nice. We can't wait to relocate into our new house in Saint-Chinian and start our new life in this beautiful area of France.